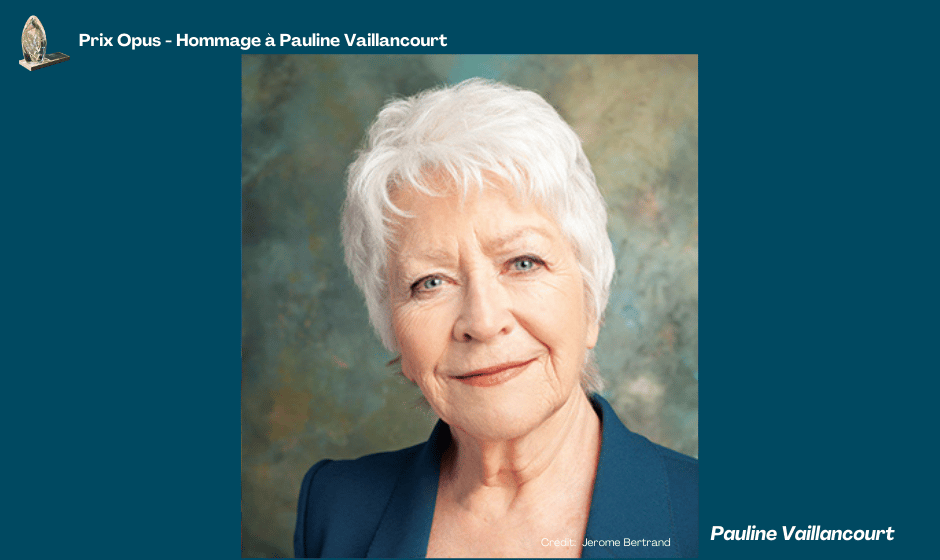 As part of the 26th edition of the Prix Opus, the Conseil québécois de la musique (CQM) is pleased to present the Prix Hommage to Pauline Vaillancourt, lyric and contemporary artist, designer and director, in recognition of her exceptional contribution to contemporary lyric music. A privileged interpreter of numerous composers, Pauline Vaillancourt has been defending their works for more than 50 years, both on the national and international scenes. Her rich career has taken her to the stages of numerous festivals as well as Carnegie Hall in New York, working with renowned conductors and directors.
Pauline Vaillancourt holds a Master's degree in performance from the Université de Montréal. From the beginning of her career, she developed a theatrical approach to music, notably with Gropus 7 in the 1970s.
A founding member of Chants Libres, and artistic director since 1990, she conceives, directs and interprets several of its productions. Her numerous collaborations have nourished her creative process, integrating new technologies always to the benefit of the voice and the libretto. Attentive to the next generation and to the perpetuation of works, through Chants Libres, she entrusts young performers with the revival of some of the most demanding works, in addition to offering them seminars and research workshops.
Committed to research, she is also active in DEII, the Laboratory for the Development of Immersive and Interactive Environments, in partnership with the Hexagram network for research and creation in media arts and technologies.
"Pauline Vaillancourt's commitment to contemporary opera is remarkable. Her bold artistic proposals have certainly contributed to the advancement of music and to positioning Quebec as a centre of avant-garde research," commented Françoise Henri, President of the CQM.
The Prix Hommage is given annually by the CQM Board of Directors to recognize the exceptional contribution of an individual to the Quebec music community. This award is in addition to several others that have been awarded to her during her career, including the Victor Martyn Lynch-Staunton Award for Excellence from the Canada Council for the Arts, the Flanders-Quebec Performer of Contemporary Music Award and the Albert Tessier Award, the highest distinction awarded to an individual for his or her outstanding contribution to the field of film in Quebec.
Ms. Vaillancourt will be honoured at the February 5 gala hosted by actor, columnist and host Jocelyn Lebeau.
Source : Conseil québécois de la musique