CREATIVE TEAM
Sandeep Bhagwati, music
Mykalle Bielinski, voice & electronic
PERFORMANCE
Sunday October 22, 2023, 7:30 pm
La Chapelle | Scènes contemporaines
3700, Saint-Dominique, Montreal
General Admission: $20 | 15 and under: $15

PARTNERS
Presented in collaboration with Le Vivier, as part of the SMCQ – Série Hommage Sandeep Bhagwati.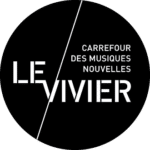 SUPPORT THE LABS
Get your toque with the effigy of the laboratories and support this research-creation initiative!
Cost: $25,00
ABOUT THE EVENT
Dreamlike and mysterious, Sandeep Bhagwati's Aichinger lieder seemingly escape from reality into a gentle trance-like state. In the meditative spirit of Mykalle Bielinski's concerts, this Chants Libres remix features psalmody, orality, ritual and the living arts. Drawing on the ethereal freedom of Ilse Aichinger's poetry, accompanied by synthesiser drones and looping, the voice and presenc of Mykalle Bielinski soar, intermingle and merge in a strange mirroring effect.
Presented in German and French.
Initiated by artistic director Marie-Annick Béliveau, "Laboratoires Lyrik" are experimental residencies, bringing together artists from different disciplines to explore new creative processes in opera.